Its time to have some sports news now.For all these days there will be lot of criticisms, expert opinions,predictions etc on only one sporting event,which is none other than C-R-I-C-K-E-T.Ofcourse,in India sports means only cricket right.But strangely, for the past few days I am able to see lots and lots of news items about women hockey, weightlifting etc. If u r going to think that the debate is about the performance of the relevant teams means, slap yourself and say, "oh my God,I forgot,this is India and performance related debates are only meant for cricket,am sorry!!!".The news was all about sexual harassment in women hockey and weight lifting.
M K Kaushik,this is the name that was in headlines last week.He was the hockey national team coach of India,until this incident came to light.Ranjita Devi,a player, sent a written complaint to HI(Hockey India),alleging that M K Kaushik,the coach has asked sexual favours from her and also has used abusive language.31 players have signed against this Kaushik.Another person,video analyst,Basavraj was also sacked,as there are allegations that he was in the company of sex workers during the tour of China.


Another case is that of SAI(Sports Authority of India) coach Ramesh Malhotra. Reputed Indian weight lifter Karnam Malleswari ,who was the only Indian to win a medal(bronze) in Sydney olympics(2000),has made allegations against Malhotra that he has been sexually harassing junior weight lifters for more than a decade.She has produced some telephonic conversations to media(I couldn't get them in net,else I would have shared it here).After this allegation,Malhotra was suspended.Malleswari also demanded the removal of Sahdev Yadav,Indian Weightlifting Federation secretary,since he has not responded to her complaints against Malhotra in the past.It has to be noted that Malhotra was recommended by IWF for Dronacharya award for the last 2 yrs.
If we analyse the reason for all these issues,I would say its nothing other than "lack of interest towards sports other than cricket".There are so many such Kaushiks and Malhotras in India.Why these issues were not exposed earlier itself? If reports r to be believed it seems that the harassment has been going on for a very long time.The thing is the politicians wants to make money out of anything and everything.When Saina Nehwal met the sports minister in 2008,with her coach GopiChand,the minister asked an excellent question to her."Who is this person(Gopichand)?".Gopichand has won Rajiv Gandhi Khel Rathna award and all.But the minister couldn't recognize him. So its crystal clear that he doesn't know anything about sports,but still he becomes a minister.
The latest controversy is the one regarding Common Wealth Games.The venues where the CWG will be hosted is too poor it seems.One popular 24/7 news channel exposed the conditions of the venues.An Indian swimmer,after completing the practice,was hurt near the swimming pool,due to bad construction work.Imagine what if the same happens to some international player?Mani Shankar Aiyar,a former sports minister says that he will be very unhappy if the CWG becomes a success.What to do with people with such an attitude?
There are people who argue that in India,cricket is given more importance because Indian cricket team keeps winning most of the time.The bitter truth is that the performance of this team is not as superb as it is being boasted.This is a kind of team which most of the time will be praying for the defeat of other teams.Most of the time situation will be like this only,"if Australia loses this match,then India can enter to next round".So its a perception that India's performance is far superior compared to other sporting events.
Without much help from govt or their respective sporting authority,people have achieved in other sports too.Saina Nehwal,has won 3 consecutive tournaments and is clearly at no.2.Last olympic games saw a new rise in India.3 medals,Abinav Bindra gold medal in shooting,Vijendar and Sushil won bronze in boxing and wrestling respectively.
Pankaj Advani,has won world Billiards Championshitp,Asian Billiards Championship etc.
Vishwanathan Anand has been consistently rocking in Chess.
To be frank,I would rate him as one of the greatest sportsperson in India, as he has given a new lease of life to chess in India,by winning more and more championships.Atleast after the success of these people the govt should have come forward to help these sports.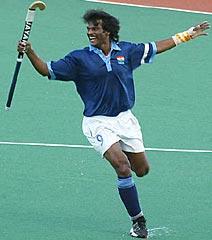 The Indian hockey team,which was once rocking at international level,is struggling like anything.Its a real pity that our hockey team couldn't even qualify to olympics 2008.The reason which I heard from many people is that Indian hockey took a back when the matches where conducted in turfs.Are we really so dumb that we can't dominate in turfs?My million dollar question is,this is a nation with population more than 100 Crore(and now its growing in exponential rate :D),can't we find some 15 players,who can put up atleast a reasonable performance? There was an excellent player called Dhanraj Pillai. He did a gr8 job,still he was treated badly by the authorities.Then how can v find good players?It has to be noted that Hockey is India's national game :-).
Nowadays even small kids are aware of Paul,an octopus.There is a sms doing rounds about Paul.This is that sms:
Flash news,Octopus Paul suddenly died of heart attack.The reason is:
Someone questioned it when will India enter football world cup?
This is the condition of Indian football team.Here also talented guys r there.I read a news during FIFA2010.In Chennai Vyasarpadi slums,there is person who caught some mischievous kids and those who were about to indulge in some anti-social activities and coached them.These guys have participated and won in some international tournaments too.They r very familiar with stats about Messi or Ronaldo or Kaka etc.. When some kids can win matches at international level,can't we find players who can perform at international levels?
Cricket is the most popular game in India-agreed.But that doesn't mean that every Indian who wants to be a sportsman,should necessarily be a cricketer.The govt should provide the same amount of encouragement to every sporting event.
These issues have to be viewed seriously.The media should expose more about all these stuff.Once Sachin scored a double century,the focus shifted towards him and there was no news about Kaushik or Malhotra.
Earlier and all,non-cricketing sports people used to comment that the govts are not doing enough for their sports in terms of money and other facilities.But when the morality of the people involved itself becomes a question mark means,its really dangerous.Politicians should stop viewing sports as a mode of business.Also they should stop looting the money involved in it.I am not going to the IPL-Lalit Modi saga,as I have already dealt with it in another post earlier.
Lets hope the authorities in India wakes up atleast after all these incidents!!!